The District of Braga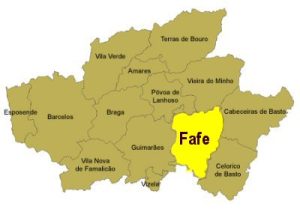 Municipality of Fafe
Fafe, a land stuck in the transition between Minho and Trás-os-Montes, which saw its people choose emigration as a life strategy, at a time when rurality marked their daily lives. Brazil was, in the 19th century, the first choice. Many left, some would return bringing proposals for change to their land.
the city today
Parishes of the District of Braga in the 18th century :
CAPELA, Viriato (2003). The Parishes of the District of Braga in the Parish Memories of 1758 – The construction of the 17th century Minho imaginary . Braga:
National Data
Although initially poor, Portuguese statistics show chronological continuity since 1855. The series begins with the semi-official statistics published by Rodrigues de Freitas, covering the period 1855-65, and continues with the official publications initiated by the Parliamentary Inquiry on Emigration of 1873. From 1866 onwards, statistics are based on passports issued by all civil governments. Only from 1880 onwards are expatriates to the American continent quantified in Portuguese statistics, namely to Brazil, the United States and Argentina, countries on the American continent received almost all Portuguese emigrants. There are, therefore, quantitative data on emigration for the period of strong population growth and great population mobility in the second half of the 19th century and the beginning of the 20th century.
According to data collected by the authors of the Parliamentary Survey on Emigration , carried out in 1873, legal Portuguese immigrants who entered Rio de Janeiro from 1861 to 1872, on sailing ships, amounted to 49,610, of which 38,900 came from the district of port .
From Orlando Ribeiro's perspective, the Portuguese emigration movement until the year 1900 fluctuated around 20,000 emigrants per year, with a short-lived recession at that time, which was followed by a large increase that reached levels never reached, 49,000 in 1911 , 77,000 in 1912, 67,000 in 1913. He also concluded that from 1890 to 1940 1,200,000 emigrants left the country, 92% from the North and 83% bound for Brazil .
Bento Carqueja, in 1916, counted at 900 000 the number of Portuguese emigrants who, in the course of the previous 40 years, had definitively left the country. In 1917, Fernando Emídio da Silva estimated the Portuguese population in Brazil at 800,000 people .
PILOTO, Maria Adelina de Azevedo (2010). The Municipality of Vila do Conde and Brazil – Emigration and Return (1865-1913 ) , Doctoral Thesis. Porto: University of Porto, Faculty and Letters. pages 39-41
Portuguese emigration – its origins and distribution